Presenting
Raw Emeralds!
A variety of one of a kind jewelry made from REAL raw emeralds, sapphires, rubies and gold!
Shop now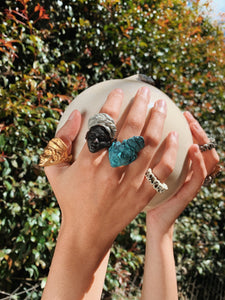 Designer Spotlight
Trefoil
One of a kind sculptures transformed into a body ornament! Trefoil rings take 18 to 50 hours of artisanal labor!
Shop Now
New Collection
Emerald Jewelry
where unique Colombian emeralds
are the protagonist and play a central role in the design.
Shop Now
Collection
New Arrivals
Check out our unique new products, we guarantee you will not find anywhere else!
Shop now
"
Whatever the current chapter, you are the protagonist of your own life! These specially curated pieces will empower you to make everyday in your life an opportunity to shine!

"
Collections
Necklaces & Charms
Have fun mixing and matching our charms with your favorite necklaces